The Banking on Climate Chaos report finds that, overall, bank financing continues to be aligned with climate breakdown. Sixty (60) global banks have funneled an additional US$3.8 trillion in fossil fuels since the Paris Agreement (2016-2020). Fossil fuel financing dropped 9% last year, parallel to the global drop in fossil fuel demand and production due to the COVID-19 pandemic. And yet 2020 levels remained higher than in 2016, the year immediately following the adoption of the Paris Agreement.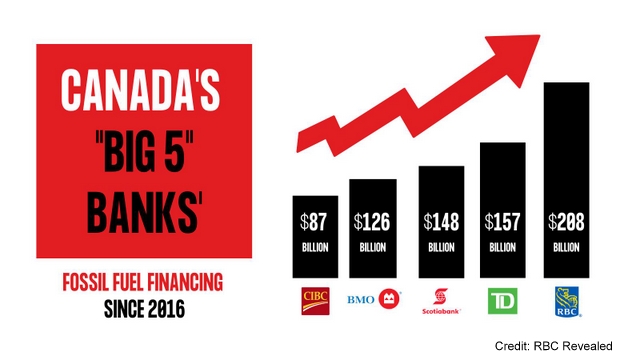 Since Paris, Canada's Big Five banks have financed fossil fuels:
over C$726billion (US$559billion) in total globally;
almost C$300billion (US$231billion) for fossil fuel expansion;
provide the lion share of the money for Tar Sands – C$99billion (US$76billion).
Globally we produce 5% of the world's oil but hold 17.5% of the world's fossil financing since 2015. By partnering with the fossils, our big banks are carbon majors and funders of climate change.
RBC leads Canada in financing climate change with over C$208 billion. Canada's big five banks (RBC, TD, Scotiabank, BMO and CIBC) are in the top 25 banks globally for fossil fuel financing (RBC 5th, TD 9th, Scotiabank 11th, BMO 16th and CIBC 22st).
When you're banking with one of Canada's Big Five—RBC, TD, BMO, CIBC, Scotiabank—your money is going into fossil fuels. And, your bank is a #fossilbank.
You can find out more about your bank — Policies, Policy Assessments, Doggy Deals, News, Media — at BankTrack