The climate crisis cannot be solved if we continue to burn fossil fuels. To have any hope of addressing the root causes of the climate change, leaders of the biggest polluting countries must deliver a fast and fair phase out of fossil fuels. 
The Global Fight We Must Win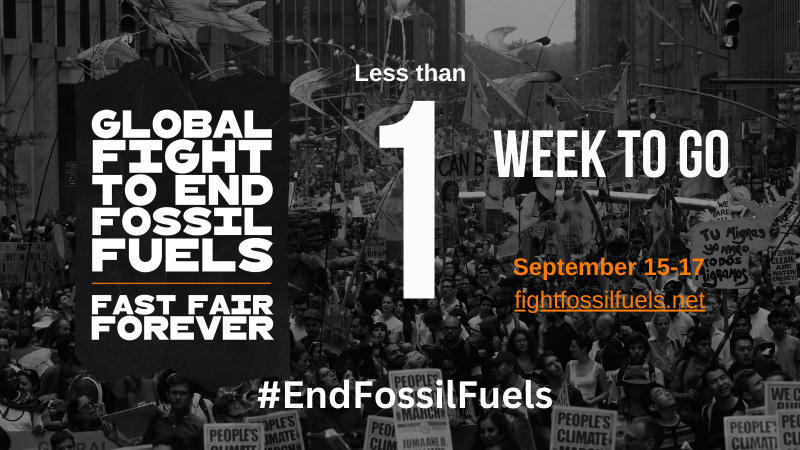 Our world is in a climate crisis. Climate impacts are accelerating and escalating.
We have witnessed the planet's hottest ever June and July with record-breaking temperatures. We are seeing rising ocean temperatures, widespread loss of global sea ice, deadly flooding, 1000-year rainfall events, killer heat waves, and a countless number of wildfires around the world.
From B.C. to Nova Scotia, Canadians are coping with the worst wildfire season ever, smoky skies, hazardous air quality, massive rainfall events, more tornadoes, disastrous flooding, and scorching heat. We have never seen anything like this!
This summer's intense global heating has prompted UN Secretary-General, Antonio Guterres, to say that "Climate change is here, it is terrifying, and it is just the beginning. The era of global warming has ended; the era of global boiling has arrived."
And the biggest  cause is fossil fuels – coal, oil and gas. A recent Carbon Brief report shows that fossil CO2 accounted for 91% of emissions in 2022.
The science is clear. The world must address the root causes of the climate crisis with a rapid and just transition away from fossil fuels.
The fight to #EndFossilFuels #FastFairEver
In response to a worsening climate crisis, climate movements are escalating their fight against fossil fuels by scaling up their climate demands. At the Bonn Climate Change Conference in June, climate justice movements issued a Press Release calling for a coordinated global mobilization to #EndFossilFuels on September 15-17. "As world leaders gather at the UN climate talks in New York City, millions of people in every corner of the globe will take to the streets to demand a rapid, just, and equitable end to coal, oil and gas."
A new wave of global mobilisations will include hundreds of actions around the world. In New York City, the March to #EndFossiFuels will take place on September 17 as world leaders gather for the Climate Ambition Summit hosted by UN Secretary General Antonio Guterres on September 20 during Climate Week NYC which will run from September 17-24. This is an annual climate gathering that brings together some 400 events and activities with speakers, change makers, and business leaders that focus on driving climate action, faster.
The Global Fight to End Fossil Fuels September mobilisations include 6 demands: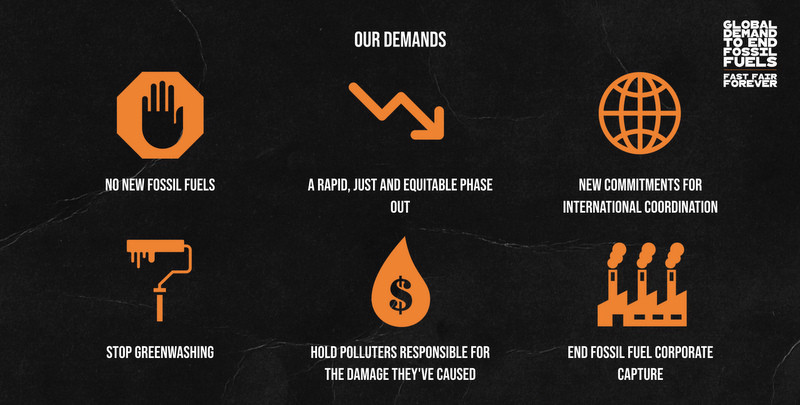 No new fossil fuels – No new projects, finance – public or private- subsidies and no new approvals, licences, permits, or extensions.
A rapid, just and equitable phase out of existing infrastructure in line with the 1.5C temperature limit and a global plan, like a Fossil Fuel Non-Proliferation Treaty, in order to ensure that each country does its fair part.
New commitments for international cooperation to drastically scale up financial and technology transfers to ensure renewable energy access, economic diversification plans, and Just Transition processes so that every country and community can phase out fossil fuels.
Stop greenwashing and claiming that offsets, CCS, nature-based solutions or geoengineering are solutions to the climate crisis.
Hold polluters responsible for the damage they've caused and make sure it's coal, oil, and gas corporations that pay reparations for climate loss and damage and for local rehabilitation, remediation and transition through global corporate tax justice and accountability mechanisms.
End fossil fuel corporate capture. NO to corporations writing the rules of climate action, bankrolling or participating in climate talks, or undermining the global response to climate change.
Canada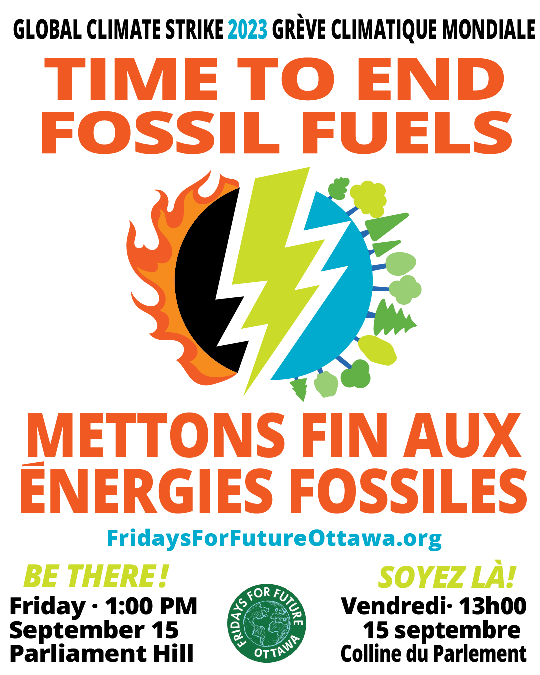 In Canada, Global Strike Friday will take place on September 15-17 in dozens of locations, Fridays for Future Canada is collaborating with Fight Fossil Fuels in the #EndFossilFuels #FairFastForever campaign
In Ottawa (where I live), Fridays for Future Ottawa is planning a massive day
of action. During the first global climate strike in 2019, over 30,000 people jammed Parliament Hill while Greta Thunberg was in Montreal where over 500,000 people filled the streets. The tone of the messaging in our action is urgency, community, resistance, and hope.
Across Canada we are coming together to fight back against the fossil fuel industry and its enablers. Big Oil and organizations like the Pathway Alliance and the Canadian Association of Petroleum Producers are using greenwashing tactics – misleading ads, distractions and outright lies – trying to convince people they are responding to the climate crisis. Our governments and oil companies continue to prioritize fossil fuels while the finance industry – banks and pension funds – continue to bankroll global climate chaos.
As the climate crisis is escalating, so too is the global movement for climate justice. The world cannot wait for climate leadership. That must clearly come from the grassroots. The climate time-bomb is ticking!
ICYMI:
Big Oil's Misleading Ads, Distractions and Outright Lies
The Climate Crisis is a Fossil Fuel Crisis
Is There a Climate Doctor in the House
This work is licensed under a Creative Commons Attribution-NonCommercial 4.0 International License.