The Canada Pension Plan (CPP) is the largest pension fund in Canada and one of the largest in the world. The CPPIB (Canada Pension Fund Investment Board) had nearly $22 billion invested in fossil fuels as of July, 2022. CPPIB also owns oil and gas companies, pipelines and other fossil fuel infrastructure all over the world.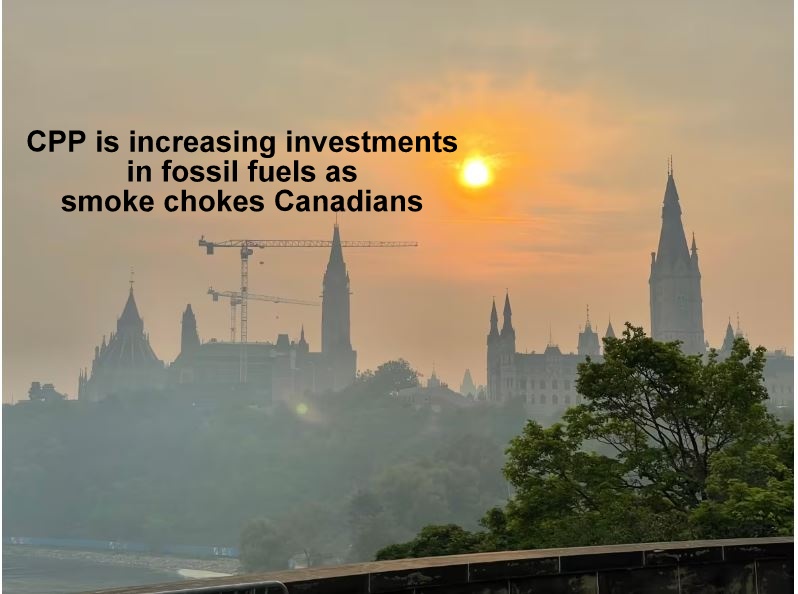 Fossil Fuel Expansion by CPP
The ongoing and expanding support of the fossil fuel industry by the Canada Pension Plan, as Canadians face a climate emergency, is shameless, soulless and just plain unacceptable. — RMontpellier, Below2C
(The remainder of this post features a recent Press Release by Shift Action for Pension Wealth & Planet Health on June 20, 2023.)
STATEMENT FROM SHIFT ON CPPIB-OWNED CIVITAS RESOURCES' $6.2 BILLION OIL ACQUISITION
A company privately owned by the Canada Pension Plan Investment Board (CPPIB) announced this morning that it's spending CA$6.2 billion to increase its oil production by 60%. Ongoing, reckless investment in fossil fuel expansion by Civitas Resources (Civitas) makes a mockery of the CPPIB's net-zero emissions commitment and gambles the retirement savings of millions of Canadians on climate failure.
The CPPIB owns 21% of Civitas' common stock, making Canada's national pension manager the largest shareholder in the Denver-based company. Acquiring new fossil fuel assets is incompatible with the CPPIB's commitment to achieve net-zero greenhouse gas emissions across all scopes by 2050. Expanding oil and gas production is the opposite of what the International Energy Agency and Intergovernmental Panel on Climate Change say is required from investors to limit global temperature increase to 1.5°C by mid-century.
"As Canadians from coast to coast choke on smoke, evacuate their homes and suffer through the worst wildfire season on record, the CPPIB is allowing its growing portfolio of fossil fuel companies to spend $6.2 billion to acquire 335 million barrels of oil in Texas and New Mexico," says Patrick DeRochie, Senior Manager of Shift. "The CPPIB is risking our national retirement fund on stranded assets and investing in a future of ever-worsening climate disaster."
Civitas and its predecessor companies have a long record of expanding oil and gas production while aggressively lobbying against climate action, greenwashing their operations and environmental commitments, and ignoring the concerns of the communities in which they operate:
CPPIB-owned Civitas' massive increase in oil production comes just three months after the CPPIB's acquisition of a 49% stake in Aera Energy, California's second largest oil and gas producer. These investments expose all Canadians to unacceptable levels of climate-related financial risk as oil and gas investments become stranded due to a rapidly accelerating global energy transition.
Amidst a worsening climate emergency, the investments and actions of Civitas are irreconcilable with the mandate of the CPPIB to invest the Canada Pension Plan without undue risk of loss. Retirement security is impossible without a safe climate future to retire into, yet the CPPIB is behaving like it's business-as-usual.
Contact information for interview requests:
Patrick DeRochie, Senior Manager, Shift Action for Pension Wealth & Planet Health
patrick@shiftaction.ca (416-576-2701)
Shift Action for Pension Wealth and Planet Health is a charitable initiative that works to protect pensions and the climate by bringing together beneficiaries and their pension funds to engage on the climate crisis.
ICYMI:
Our Banks Are Not Our Friends. They Are Climate Villains
Canada's Climate Villains: the Largest Barrier to Climate Action
The Renewable Revolution Will Play Out This Decade
This work is licensed under a Creative Commons Attribution-NonCommercial 4.0 International License.