"A green recovery is one that tackles the climate, biodiversity and pollution crises at the same time," says Inger Andersen, Executive Director of the United Nations Environment Programme. The UN Decade is a rallying call for the restoration of nature and ecosystems to counteract climate change and stop the collapse of biodiversity.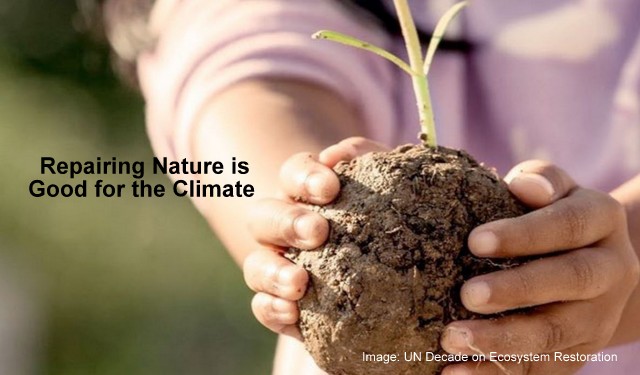 According to Anderson, "Some countries are already designing stimulus packages that include actions for forests, wetlands, soils and green cities. At the UN Biodiversity Summit, we saw a remarkable groundswell of political commitment to nature. But now we must step up on a massive-scale, actions to restore our degraded ecosystems."
Among many others, these five countries are including the restoration of nature in their pandemic green recovery plans. (Source: UNEP – UN Environment Programme)
Ethiopia
"Ethiopia is aiming to plant 5 billion seedlings this year, part of an effort to double its forest cover by 2030. Together with the Economic Commission for Africa, the country has focused on forest restoration as a way to create green jobs, improve the health of its citizens and spur a recovery from COVID-19. In 2019, Ethiopia set a new world record when over 350 million trees were planted in one day as part of President Abiy Ahmed's Green Legacy Initiative."
Columbia

"Restoration efforts in Colombia's recovery plan include reforestation and support for sustainable agriculture. To reverse deforestation and combat climate change, the government aims to plant 180 million trees, some 50 million of which should be in the ground before the end of 2020. The package includes funds to promote agroforestry and agropastoralism, farming techniques that can restore soils and ecosystems. The government also plans to tighten mining regulations to protect the environment."
France
"About one-third of France's €100 billion (US$ 120 billion) recovery package is devoted to accelerating the greening of the economy. Alongside investments in clean buildings, industry and transport, are new resources for the "agro-ecological transition" of agriculture. The initiative includes advice, training and tax credits for organic farmers, replanting and restoring hundreds of kilometres of hedges along field boundaries, and support for locally based food systems and urban farming."
Finland
"Finland's recovery efforts include a proposal to spend €53 million (US$ 63 million) on recreation areas, water services and forest conservation. An additional €13.1 million (US$ 15.5 million) will be channelled to the rehabilitation of natural habitats, including forests, and the development of nature tourism. These funds are earmarked for state-owned enterprises charged with capturing carbon and protecting biodiversity."
Iceland
"As part of its stimulus package, Iceland has allocated ISK 200 million (US$1.5 million) for natural carbon sequestration projects, including the expansion of native birch forests and the restoration of wetlands. Iceland is also pushing ahead with plans to ban the sale of single-use plastics, such as cutlery and food containers, to combat the pollution of marine ecosystems."
The strategy of using the restoration and protection of nature for combatting climate change is obvious. Nature sucks carbon out of the atmosphere. But it's much more than that. Forests, vegetation, wetlands and ecosystems protect property and infrastructure, crops, water and soils by providing buffers during extreme weather.
ICYMI:
The Two Sides to Canada's Post Pandemic Recovery
There is No Future for Us Without Nature
This work is licensed under a Creative Commons Attribution-NonCommercial 4.0 International License.