"It's no accident that in Canada, climate policy after climate policy gets weakened, delayed or killed. It's because of the actions of a small number of people who are putting their profits ahead of Canadians and the rest of the planet,"  says Julia Levin, associate director of national climate at Environmental Defence.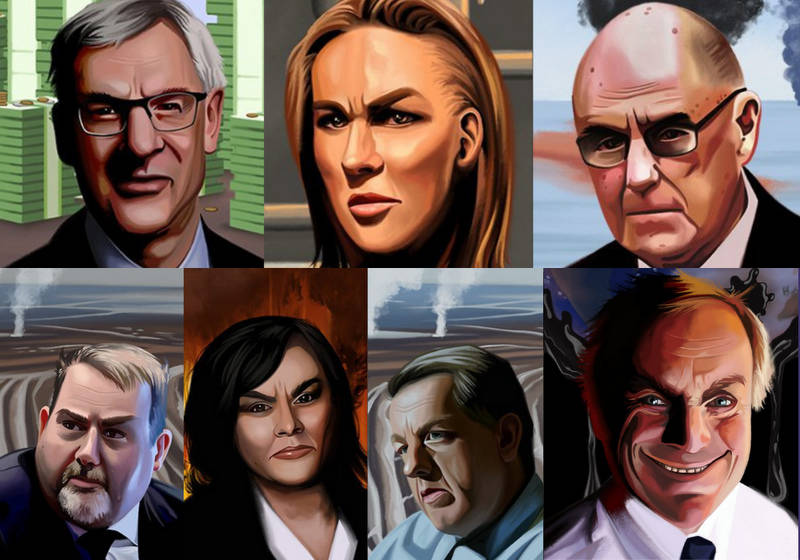 Climate Villains
(This post is sourced from the Environmental Defence Canada's Climate Villains Campaign.)
In the recent launch of its Canada's Climate Villains Campaign, Environmental Defence exposes seven fossil fuel executives who are making the climate crisis worse. Climate villains are not born that way. It's a choice. These so-called corporate leaders are plunging the planet into a downward spiral that can only end in catastrophic climate impacts.
Canada's Oil and Gas industry has long been the biggest barrier to climate action. Despite the harmful impacts that people in Canada and around the world are suffering daily from lack of action, the oil and gas industry continues to rake in record profits that our government supports. We are done taking the blame as individuals. Our window to collectively come together as a collective force is narrow, but is open. The time to push our government to act is now. — Source: campaign webpage
Climate Villains: The largest barrier to climate action.

Environmental Defence, YouTube
May 11. 2023
Oil and gas companies want everyday people to believe that we're driving the climate crisis. In fact, here are the influential players behind Canada's oil and gas industry who are truly to blame. They play key roles in expanding and financing climate-wrecking fossil fuels, blocking climate action, and spreading disinformation. These villains are more concerned about their profits and wealth than the future of the planet. — Source: campaign webpage
How climate villains operate:
Expand oil and gas production.
Weaken climate policies.
Promote false solutions.
Spread lies and disinformation.
Environmental Defence is inviting readers to "name and blame" the seven villains who are not only turning a blind eye but in fact are adding fuel to the flames of an already burning world. Their decisions and choices are choking our planet:
David McKay is the CEO of RBC, Canada's biggest fossil bank, which in 2022 was the world's top financier of the oil and gas sector. Under his leadership – or lack thereof – RBC has poured almost $350 billion into fossil fuels since the Paris Agreement of 2015, and presently, 99% of RBC's energy finance is in fossils.
Michael Binnion is a key figure in the petro-populist network which is "closely tied to anti-democratic, far right groups and demonizes critics of the fossil fuel industry as anti-Canadian. It relies on astroturf groups. These are groups that pretend to be people-driven movements, but are really funded by the fossil fuel industry."
Lisa Baiton is the CEO of the Canadian Association of Petroleum Producers (CAPP) which uses its oil and gas company dues to fight climate action – delaying and weakening climate policy and regulations.
The other four villains are Alex Pourbaix, Susannah Pierce, Arthur Irving, Brad Corson. They equally leave a trail of climate destruction in their path.
But there are more, many more, climate villains in Canada. Any political leader who puts the interests of the oil and gas industry before the public interest is a climate villain. Politicians who choose to use public tax dollars to build more pipelines – like the TMX – or prefer to expand natural gas plants rather than finance clean energy, are climate villains.
Canadians must target and expose all climate villains. These individuals must be eliminated from the public discourse on climate. We need to expose them for what they are – a scourge on society and the earth.
We must celebrate climate heroes, not villains. Environmental Defence's "name and blame" campaign is a step in the right direction.
ICYMI:
It's Time For A Youth Climate Corps
Get A Heat Pump: Save Money, Energy and the Climate
New Climate Rules for Canada's Big Banks
This work is licensed under a Creative Commons Attribution-NonCommercial 4.0 International License.