Despite a massive global drop in fossil fuel demand and production during the pandemic, banks' 2020 fossil fuel financing numbers still remained above 2016 levels, and the overall trend of the last 5 years is still heading in the wrong direction. The world's big banks continue to fuel climate chaos in spite of their commitment to the principles of the Paris Agreement.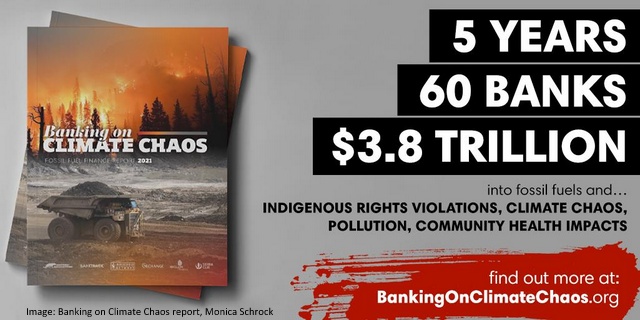 (This piece is sourced primarily from BankTrack.)
JPMorgan Chase remains the world's worst funder of climate chaos, though Citi came in a close second in 2020. RBC, Toronto-Dominion Bank and Scotiabank are all in the top 10 biggest financiers. You can check out the interactive data in the Banking Climate Chaos 2021 Report.
Banking on Climate Chaos
Banking on Climate Chaos also scores banks' fossil fuel policies, and analyzes the recent wave of bank financed emissions commitments — finding that "net zero" commitments are a reluctant admission that banks are major emitters, but no substitute for immediate steps to phase out financing of fossil fuels, and that banks must avoid relying on "net zero" schemes that violate human rights and Indigenous rights. The report also highlights case studies around the world where banks' fossil fuel financing harms communities on the ground, from the Line 3 tar sands pipeline in Minnesota, to the EMBA Hunutlu coal plant in Turkey.
JPMorgan Chase comes out on top as the world's WORST banker of climate chaos. In the last five years alone, Chase has dumped well over a quarter TRILLION dollars into fossil fuels, continuing to fuel the flames of climate destruction. 
The video is a must-view.
The 2021 Banking on Climate Chaos report is the most comprehensive analysis on fossil fuel banking produced to date. This 12th annual version of the report expands its scope to investigate the fossil fuel financing and policies of the world's 60 largest banks to over 2,300 companies. The report is prepared by Rainforest Action Network, BankTrack, Indigenous Environmental Network, Oil Change International, Reclaim Finance, and Sierra Club, and endorsed by hundreds of organizations around the world.
Banks In Canada
In Canada, climate organizers are focusing on RBC—the country's worst fossil bank—ranked 5th in financing climate chaos around the globe. The launch of RBC Revealed will expose how Canada's largest bank is funding the global climate crisis. This new platform will support an ongoing campaign to target and shame the Big Five Canadian banks for their unconscionable support of financial fuels.
New numbers show RBC is still the largest funder of fossil fuels in Canada and 5th largest in the world, financing C$208 billion since the Paris Agreement was signed in 2016, including C$79 billion in fossil fuel expansion projects. Below2C will feature other posts in the coming days on fossil banks and RBC Revealed.
Related articles:
Mark Carney: We Can't Self-Isolate From Climate Change
Calling on Banks: Don't Finance East African Crude Oil Pipeline (EACOP)
This work is licensed under a Creative Commons Attribution-NonCommercial 4.0 International License.