The dialogue about climate is constantly expanding. It's not enough to focus on melting Arctic glaciers, thawing permafrost, warming oceans, wildfires, floods, hurricanes, droughts. Our dialogue must now include solutions, adaptation and mitigation. We need to start asking the right questions. The climate "conversation as usual" days are over.
This post features a recent Mitchell Beer TEDxOttawa presentation. Mitchell's talk is about broadening the discussion on the climate crisis. It was first published in The Energy Mix. 
Watch the Talk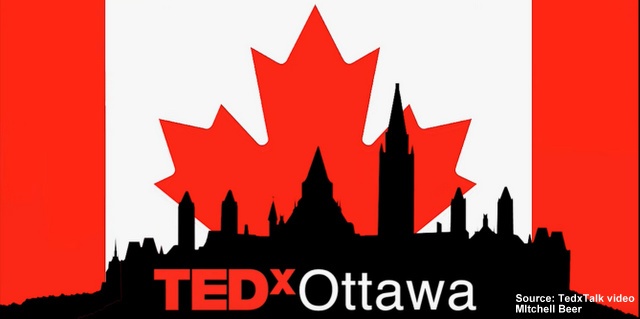 This week, we're launching a video that we hope will help extend the conversation on the climate crisis and climate solutions to audiences and communities that aren't already thinking about them.
It captures the 18 minutes I spent onstage at Ottawa's National Arts Centre last fall, delivering a TEDxOttawa talk on how to build wider public demand and buy-in for faster, deeper carbon cuts. The audience reaction that night was far beyond anything I could have imagined. So now, we're trying to get the talk out as far and wide as possible. (And we'd really appreciate your help.)
One of the catalysts for the talk was a comment by sustainability specialist and IPCC author Jim Skea, during a media event for the organization's landmark 1.5°C pathways report in October 2018. "We have pointed out the enormous benefits of keeping to 1.5°C, and also the unprecedented shift in energy systems and transport that would be needed to achieve that," he said. "We show it can be done within laws of physics and chemistry. Then the final tick box is political will."
Asking the Right Questions
That statement got me thinking about the breadth of public demand it'll take to make the political will for climate solutions unstoppable. Which in turn led me to a series of "what-if" questions that I get into in the talk, and on our landing page for the video. (See below)
Here are a few more.
What if the only way to get the action and momentum we need, in the time still available to us to rapidly reduce carbon reductions, is to connect with voters and citizens who aren't already inside the climate change "bubble"?
What if that means finding common ground with people who see results like fewer smog days, less traffic congestion, more productive farm soils, or more free time with friends and family as things worth fighting for, and the carbon reductions they inadvertently produce as the co-benefit?
What if the surest way to build public buy-in is to start with the many, many aspects of the transition off carbon that are about opportunity and gain, not loss and pain?
And if that's right, what if the fastest way forward is to slow down a bit, start out by listening to the worries and priorities those audiences already woke up with this morning, then figure out together how solving for climate change helps them get the things they already need and want, faster and better?
Climate Action is Hard Work
It doesn't replace or diminish the hard work or the tough issues we write about on The Mix, on which many of our readers take the lead every day—like speeding up the shift to 100% renewable energy, phasing out fossil subsidies, bringing about a managed decline in oil and gas, and holding fossils to account for funding climate denial and knowingly pitching a product that is rapidly frying the planet.
But there's some evidence that once people have made a personal commitment to climate action, they're more likely to expect that much and more from governments, businesses, and institutions. And that the best action step they can take is to work with others to change systems that drive the carbon emissions we can't control in our own lives. If that's right, we're hoping the TEDx talk points to a way to drive better dialogue and wider participation in those issues and campaigns. We'll be promoting the talk extensively over the next couple of weeks. (As you'll see on our landing page, we're even hoping it'll help us raise funds for more original reporting on The Mix.)
So please—take a few minutes to watch the talk. Consider leaving a comment on TED's YouTube channel. And please share the link as widely as you can across your own networks.

December 9, 2019
Standard YouTube Licence
What the Second World War was to our ancestors, Climate Change is to our lifetime. We can win this battle, as long as we don't give in to climate despair and convince ourselves that it's already lost. The solutions are within our grasp, but they depend on political will that will only be driven by much wider public demand for actions that cut carbon, create many millions of jobs, and build stronger, healthier, more resilient communities. (text from YouTube video description)
More "What If" questions found on landing page of video:
What if the solutions to the climate crisis are already practical, affordable, and ready for prime time?
What if we already know how to drastically reduce the greenhouse gas emissions that cause climate change and create tens of millions of jobs along the way?
What if political will is the last box to check to get climate change under control, but sustaining that will depends on far wider public demand for climate solutions?
What if the first step in building that public buy-in is to stop arguing about the climate crisis and start co-operating on climate solutions?
What if the only way we're guaranteed to lose this battle of our lifetimes is if we convince ourselves it's already lost?
And what if the urgent but polarized conversation we're already having about climate change is slowing down the actions we need to take, at just the moment when we need those actions to speed up?
You might like:
Game Changers To Fight Climate and Ecological Collapse
Ban The Fossils From Climate Talks Starting With #COP26 in Glasgow
This work is licensed under a Creative Commons Attribution-NonCommercial 4.0 International License.