"The stranded asset hypothesis just got real," reported Business Green in early July. "Shell and BP are writing down assets while a raft of US fracking firms are entering bankruptcy protection – change is coming to the fossil fuel industry faster than anyone expected."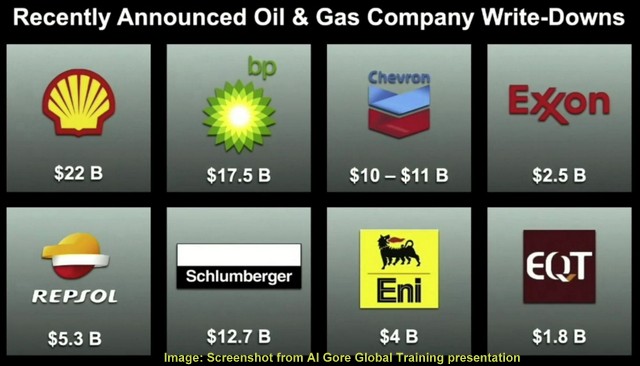 Stranded Asset Parade Has Started
Analysts fully expect that more and more big fossil companies will  declare "impairments" in their production and exploration assets in the not-too-distant future. BP and Shell downgraded the value of their combined assets by as much as US$39.5 billion in recent weeks.
The fossil fuel sector is starting to recognize that the world is pivoting to low-carbon energy making the risk of stranded assets an inescapable reality. The world cannot develop new resources of fossils and still meet the Paris Agreement target of net zero carbon emissions by 2100.
Alberta Tar Sands
"As the world transitions away from fossil fuels, starting with the most polluting sources, the tar sands are hemorrhaging investors." — Keith Steward, Greenpeace Canada
BPs $17.5 billion write-down of assets zeroes in on Canada's tar sands and deepwater wells off the Angola coast.
And just days ago, Total (French energy company) wrote off $9.3 billion in assets in Canada's tarsands. "Total's decision to write down their tarsands assets and quit Canada's biggest oil lobby group for its opposition to action on climate change underscores the urgency of ensuring that COVID-19 stimulus plans grow a green economy and transition workers securely into it," said Greenpeace Canada campaigner Keith Stewart.
"Total said it is leaving CAPP because of a "misalignment" between the organization's public positions and those expressed in Total's climate ambition statement announced in May," reports the Globe and Mail.
Two big things happening here as @Total (1) says its oil sands assets are stranded (takes $7-billion writedown); (2) is 1st oil major to quit @OilGasCanada over the lobby group's positions opposing climate action (over to you @Shell & @bp_plc) https://t.co/3kgn6DXUFK

— Keith Stewart (@climatekeith) July 29, 2020
"Two other investors in the highly-touted and increasingly-automated Fort Hills project aren't faring a whole lot better—in May, Calgary-based Suncor Energy took a $1.38-billion impairment charge on its 54.1% stake in the project, while Vancouver-based Teck Resources wrote off $474 million on its 21.3% share and decided to cut costs by dropping its CAPP membership," reports The Energy Mix.
Fossils face a bleak future
Bankruptcies: Against this backdrop of stranded assets is the downturn in the fracking revolution that saw the U.S. become a leading producer of shale gas. Once a leader in fracking for natural gas, Chesapeake Energy recently filed for bankruptcy citing excessive debt and crashing gas prices as the reasons why. Chesapeake's value dropped from $37 billion down to $115 million at the end of June.
Banks: Just recently, the German-based Deutsche Bank has joined other European lenders and insurance companies that will not back new oilsands projects. This follows Europe's largest bank, HSBC Holdings plc, announcing (two years ago) that it would no longer offer financial services for new oilsands projects or pipelines.
Additionally, Deutsche has a new fossil fuels policy that prohibits investing in projects that use fracking in countries with scarce water supplies. The policy also prohibits investment in all new oil and gas projects in the Arctic region.
Fueled by stranded asset fears, write-downs, bankruptcies and the impacts of the COVID pandemic, fossils will continue their downward spiral. COVID stimulus plans intended to create an economic recovery will need to focus on the jobs of the future—a green low-carbon economy—further driving the nail in the fossil fuel coffin.
Related articles….
The Terminal Decline of the Fossils
The Greed of the Oil Giants Is a Total Betrayal of the Future
Something Is Shifting For The Fossils
This work is licensed under a Creative Commons Attribution-NonCommercial 4.0 International License.