"A strong Clean Car Standard would phase out the sale of new gas-powered cars by 2035 by requiring automakers to sell zero-emission vehicles instead. This can reduce carbon emissions by 135 million tonnes, reduce the price of an EV by 20% for the average consumer, and prompt more investment in EV charging infrastructure." — Nate Wallace, Environmental Defence Program Manager, Clean Transportation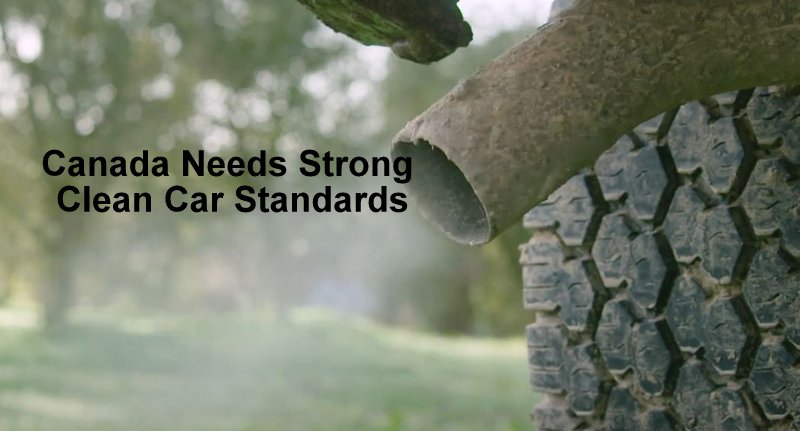 (This post is sourced from the Environmental Defence Take Action materials.)
Zero Emission Vehicle Regulation
The federal government announced a zero-emission vehicle regulation that will put Canada on the road to an electric vehicle future. But the auto industry is trying to delay the transition to electric vehicles so they can keep profiting from pollution.
We can't let auto industry lobbyists delay climate action. Now is our chance to tell the federal government to stand firm –  and make their proposed regulation even stronger!
We must call on the government to make sure the Clean Car Standard enforces clear financial penalties for car companies who fail to shift their business plans to a sustainable future and closes loopholes they could use to delay action.
The auto industry is putting their profits over the safety of people and the planet by lobbying the government for weaker targets and bigger loopholes. If big car companies get their way, they will continue selling gas guzzlers while keeping electric vehicles as hard-to-get, high priced luxuries out of reach to most people.
The federal government needs to hear from you. Together we can call for a strong Clean Car Standard and secure a big win for a sustainable future!
"TAKE ACTION"
Help us secure a strong Clean Car Standard to reduce emissions and make electric vehicles more affordable.
Your message will be sent to Minister of Environment and Climate Change, Steven Guilbeault and your local Member of Parliament.
Letter you can send to Minister Guilbeault
Dear Minister Guilbeault,
The federal government needs to stand up to the greed of the auto industry and follow-through with your promise to implement a Clean Car Standard.
Since your government has announced its intention to move forward with requiring an annually escalating percentage of new car sales to be zero-emission vehicles, the auto industry has been hard at work fighting against it.
The auto industry wants to delay the transition to electric vehicles so they can keep profiting from pollution.
Instead of selling more electric vehicles, car companies want to keep selling more gas guzzlers like SUVs and trucks because that is what makes them the most money. If big car companies get their way, they will keep electric vehicles as hard-to-get, high priced luxuries out of reach to most people.
That's why it is so important that you stand firm against their demands to open loopholes in this regulation, to lower sales targets, and give them options to delay the transition. They are just in it for their bottom lines – not the climate.
In fact, the proposed regulation should be made stronger – so Canada can catch up with the ambitions of other leading jurisdictions on the transition to electric vehicles – and close potential loopholes that car companies could use to delay action.
Whenever the auto industry has been faced with regulation, whether it was requiring them to install seatbelts, airbags or catalytic converters – they said this would lead the sky to fall on their heads.
Except every time, they were wrong. The times have changed – but car company excuses have remained the same. They are doing it again with electric vehicles. This time – we can't let them get away with it.
The auto industry have always put their profits over the safety of people and the planet. And every time, the government has had to step in and make them do the right thing.
Canada will miss its zero-emission vehicle sales targets unless we back them up with strong regulatory action. Requiring car companies to meet these sales targets will make them bring affordable mass-market EVs to car dealerships, instead of just luxury models.
Without strong regulation, big car companies will not increase the amount of electric vehicles available at my local car dealership and long order wait times will only get worse. Instead – they'll keep flooding the market with more gas guzzlers.
A strong Clean Car Standard can reduce carbon emissions by 135 million tonnes by 2035 and reduce the price of an electric vehicle by 20% for the average Canadian consumer, while prompting more investment in EV charging infrastructure.
We need you to demonstrate climate leadership now more than ever, to draw a line in the sand and tell the auto industry that they aren't getting their way this time, and it is time for them to clean up their act.
To make this happen, we need the following changes in the clean cars regulation proposed by Environment and Climate Change Canada:  
 Don't fall behind leading jurisdictions in ambition: Quebec, British Columbia and California all have stronger near-term ZEV sales targets than Canada. Unless we keep pace, we risk falling into a two-tier supply system where ZEV buyers in Canada wait in line behind more ambitious jurisdictions. Canada needs to be a climate leader, not a climate laggard.
 Don't open the door to delay: Car companies make more profit the more they can delay the transition to electric vehicles. Under the current proposed regulation, they won't face a penalty until 2029 for not meeting sales targets. We must make sure that automakers face clear consequences each year that they aren't in compliance.
 Make enforcement clear, stringent and predictable: Without a clear, financial penalty of $20,000 per missing credit, we risk enforcement getting tied up in endless, messy court battles, or risk small infractions flying under the radar. Canada should move towards the British Columbia model of reduced compliance grace periods in exchange for required credit purchases at a fixed price high enough so that the penalty for noncompliance is always higher than the profit of noncompliance. Revenues from this should go towards publicly-managed charging infrastructure programs, like ZEVIP. This should also be used to scrap the provision that allows car companies to earn credits by investing in charging infrastructure, which is open to gaming and incentivizes car companies to inflate costs.
 Make room for provinces to do more: The regulation should have an opt-in provision that allows a subnational jurisdiction or group of subnational jurisdictions to adopt provincial or regional sales targets at or above the headline ZEV sales targets to ensure supply equity across Canada.
We can't have half measures that let car company greed take us down a path to an unliveable future. There is too much at stake.
ICYMI:
Seven Reasons Why Policymakers Must Reject CCS
Locking Out Carbon Lock-In
The 440 Megatonnes Emissions Reduction Tracker
This work is licensed under a Creative Commons Attribution-NonCommercial 4.0 International License.