In 2015 countries committed to holding global warming well below 2°C with an aspirational goal of 1.5°C. Yet, in the seven years since the Paris Agreement was adopted, the world's 60 largest private banks financed fossil fuels with USD $5.5 trillion. [1] Canadian bank fossil fuel financing since 2016 amounts to $1.12 Trillion dollars.
Your Bank Is a Climate Villain
The 2023 Banking on Climate Chaos report lays bare the shocking fact that even as fossil fuel companies made $4 trillion in profits in 2022, banks still provided $673 billion in financing, driving climate chaos and causing deadly local community impacts. The banks funneled $150 billion in 2022 specifically for fossil fuel expansion. [1]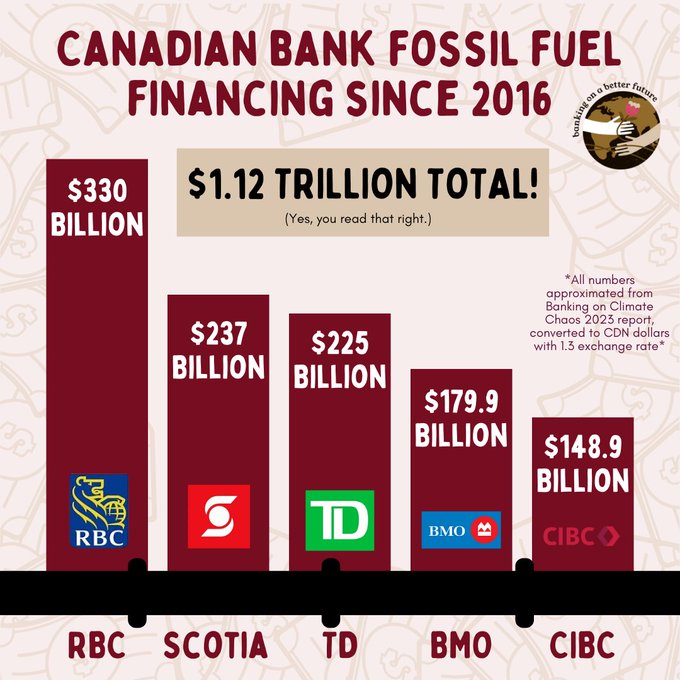 The combined total of Canada's Big Five banks – RBC, TD, BMO, CIBC, Scotiabank – now stands at approximately $1.1 trillion. [4]
And RBC is Canada's worst fossil fuel bank with a staggering $42.1 billion dollars in 2022, including $4.8 billion for tar sands and $7.4 billion into fracking.  Publicly, RBC spends millions on greenwashed advertising, claiming support for Indigenous rights. In fact, the bank is polluting our communities, bankrolling climate chaos and Indigenous rights violations to the tune of billions.
For every $99 RBC invested in fossil fuels from 2016 to 2022, $1 was invested in renewables. [3] The more money is invested in fossil fuels, the harder it is to decarbonize and the longer it will take to transition to clean energy.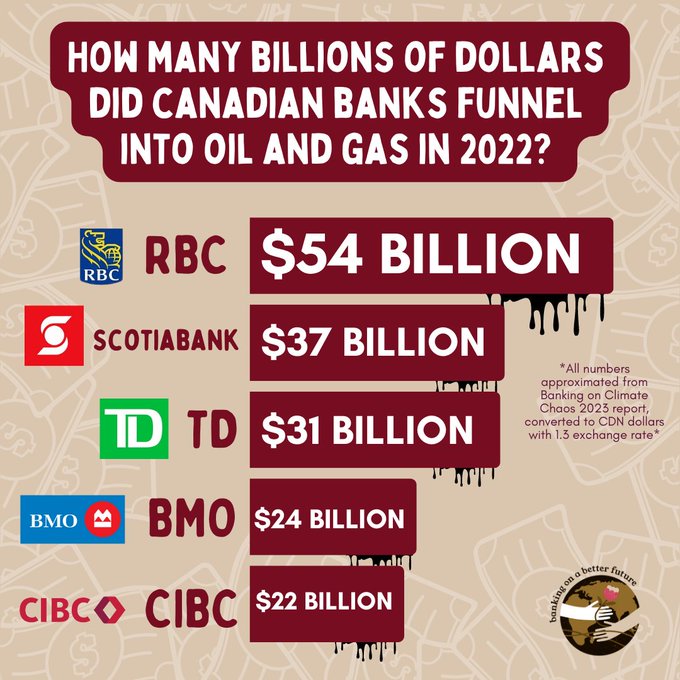 Net Zero greenwashing is common
Troublingly, net zero commitments and emissions reductions targets are failing to stop fossil fuel expansion, even though we know that expansion is incompatible with achieving net zero. While it might seem like a positive development for banks to publicly commit to becoming "Paris-aligned", there is a real risk that their "net zero" targets amount to nothing more than greenwashing [4]
Beware false solutions
So far, banks' targets are too low, leave controversial portfolios unaddressed, and rely heavily on carbon offsets and discredited technologies such as Carbon Capture and Storage (CCS), which are either unproven or proven not to work. Net zero targets not based on "deep, rapid and, in most cases, immediate" emissions cuts are delay tactics. [4]
Finance must be part of the solution
To keep the world within 1.5°C of warming and to avoid the most devastating harms of climate chaos, fossil fuel expansion must end immediately. Canadian banks are refusing to be part of the solution by continuing their polluting investments, holding Canada back from a climate safe future. This is why we need regulators to step in and force the banks into taking real climate action. [3]
For Canada to meet its climate goals, dollars from the private sector (investors and businesses) and public sector (government) must shift out of polluting investments and into green solutions. We need to:
Set Regulations – Establish new rules to align finance with a safe climate.
Move beyond reporting – Cut emissions, don't just count them.
Ensure promises are followed by action. [5]
While Canada has committed to the Paris Agreement, Canadian banks have only added fuel to the fire by increasing their financing for fossil fuels. By financing fossil fuels in this way, Canada's big banks are fuelling the climate crisis, destroying biodiversity and violating the rights of Indigenous peoples.
Our banks are not our friends. They are #ClimateVillains!
Sources:
[1] BOCC Press Release
[2] Stand.earth Press Release
[3] The National Observer
[4] Banking on Climate Chaos Report
[5] Julia Segal, Environmental Defence
ICYMI:
New Climate Rules for Canada's Big Banks
Letter to the CEO of the Oil Bank of Canada
Shameful: Canada Is a World Leader for Fossil Fuel Finance
This work is licensed under a Creative Commons Attribution-NonCommercial 4.0 International License.