The carbon tax is one of the most efficient and effective tools to reduce carbon emissions. It's a way to price pollution, especially carbon dioxide—the leading contributor to global heating and climate change.
Pricing pollution is important because it uses the market to help change behaviour. In January 2019 over 3,500 economists from the US and from all political stripes -including 27 Nobel prize winners- wrote an open letter showing their support for the carbon tax as the "most cost-effective lever to reduce carbon emissions at the scale and speed that is necessary." Source: Carbon Tax Works.
Carbon Sticker War
In spite of the widely held view that carbon pricing works, opposition to the carbon tax is very real in Canada. Several provinces—Ontario, Alberta, Saskatchewan, New Brunswick—have synchronized their battle plans against the national carbon tax. Premier Doug Ford of Ontario is leading the charge with a mandatory and controversial anti-tax sticker campaign on gas pumps.
The Toronto Star has accused Doug Ford of hitting a new low (that remains to be seen) by forcing gas stations "to put up these sticky partisan government ads." The stickers are misleading by telling only half the carbon tax story.

The Ford sticker above conveniently omits the fact that a family of four will get a $307 carbon tax rebate in 2019 rising to $718 in 2022. The rebate more than offsets the slight increase in the price of a litre of gas during the same 3 years as shown below.

Doug Ford has become the Trump of the North with his anti-climate rhetoric and actions. As a result, many Ontarians are rising up to restore the province to the pro-climate-action and pro-Green plan of the previous government. "The gas pump stickers are misleading," said Kevin Thomason, a CarbonTaxWorks volunteer in Waterloo, Ont. "We're trying to guide things in the right direction."  (reported in the National Observer)
CarbonTaxWorks is a grassroots group which is giving away free pro-carbon stickers.
Informative and Accurate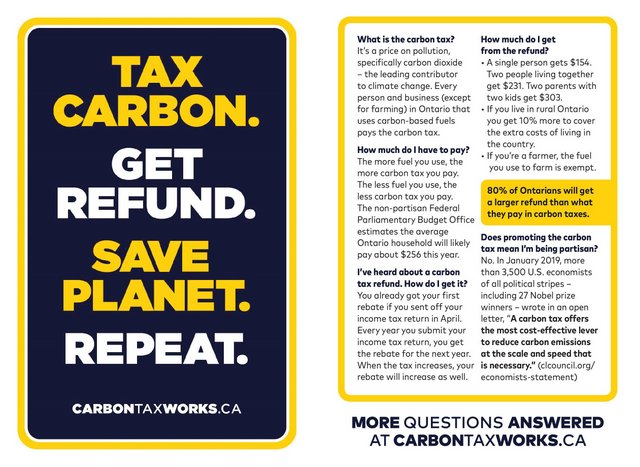 Succinct, Direct, Effective

The CarbonTaxWorks stickers have a simple non-partisan message. We all want a livable planet. And the best way to get there is to price pollution.
You can get the free stickers at this portal.
Related articles:
How To Zero Out Carbon In Canada By 2050
Carbon Pricing Works
This work is licensed under a Creative Commons Attribution-NonCommercial 4.0 International License.