COP 25 (Conference of the Parties) in Madrid is both different from and the same as the other 24 COPs. It's different because the world is now in a climate emergency. Alarm bells should be ringing around the world. But it's the same because it lacks that sense of urgency that a climate crisis requires. The climate conference ends today after nine days of climate talks.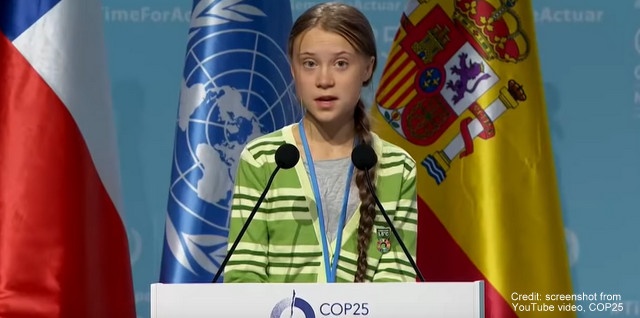 Why COP25 was so Important
In 2019, millions flooded streets of cities worldwide to demand real action during the Global Climate Strikes. Extinction Rebellion—a global movement using disruptive non-violent disobedience—has also put the world on red alert about the likelihood of ecological collapse.
"Thunberg has become the biggest voice on the biggest issue facing the planet—and the avatar of a broader generational shift in our culture that is playing out everywhere from the campuses of Hong Kong to the halls of Congress in Washington." — Time editor-in-chief Edward Felsenthal
Time has just named Greta Thunberg its person of the year marking the first time that a climate crisis activist is chosen. Her rise to global influence has galvanized millions of followers around the world to rise up and demand more climate ambition from world leaders.
Oxford dictionary has declared 'climate emergency' as its word of the year. The use of the term skyrocketed by some 10,800 percent from September 2018 to September 2019 according to Climate Reality. The 2019 shortlist included the terms "climate crisis" and "climate action".
This is also the year this is the year a bombshell report showed the world is way off track in reducing emissions at anything like the pace necessary to meet the Paris Agreement goal of limiting global warming to 1.5 degrees Celsius.
The next 12 months will be "make it or break it" for the Paris Agreement. Under the Agreement, governments agreed to upgrade their climate plans and boost their climate ambition in 2020. COP25 is meant to set the table for the next decade of climate action. It's meant to give governments an opportunity to flex their climate muscles and show the world how they will deliver.
What about Urgency?
The 2019 Emissions Gap Report shows that the world needs to cut emissions by 7.6% every year during the 2020s to meet Paris Agreement targets. And yet, COP25 shows none of the commitment and none of the leadership required to make this happen.
During her speech at COP25, Greta Thunberg was brutally honest about the failure of world leaders to act with the urgency that the climate crisis demands."There is no sense of urgency whatsoever. Our leaders are not behaving as if we were in an emergency. In an emergency, you change your behavior," said Greta.

December 11, 2019
YouTube Licence
She reminded world leaders that:
Since the Paris Agreement, global banks have invested $1.9 trillion in fossil fuels;
100 companies are responsible for 71% of global emissions;
The G20 countries account for almost 80% of total emissions; and
The richest 10% of the world's population produce half of world's CO² emissions while the poorest 10% account for just one tenth.
"This is not leading, it's misleading"
She added that "recently a handful of rich countries pledged to reduce their emissions of greenhouse gases by so and so many percent by this or that date or to become carbon neutral or net zero in so and so many years. This may sound impressive…but this is not leadership. This is not leading, it's misleading. Because these pledges do not include aviation, shipping, imported and exported goods…but do include however the possibility for countries to offset their emissions elsewhere."
The biggest danger is not inaction. The real danger is when politicians and CEOs are making it look like real action is  happening when in fact almost nothing is being done apart from clever accounting and creative PR. — Greta Thunberg
While reminding her audience that COP25 should be about finding real solutions to the real climate crisis, some countries are seeking opportunities "to negotiate loopholes and avoid raising their ambition." She added that "countries are finding clever ways around having to take real action…setting up distant dates and saying things that give the impression that action is underway. The politics needed are nowhere in sight despite what you might hear from world leaders."
Canada at COP25
Although not mentioned specifically by Greta Thunberg during her speech, Canada belongs to that group of countries "making it look like real action is happening."
In his address to participants, newly appointed Minister of the Environment and Climate Change, Jonathan Wilkinson, reiterated his government's commitments to lead on climate including "legislating a net-zero 2050 target and 5-year interim targets, passing and implementing a just transition act, and strengthening Canada's 2030 commitment under the Paris Agreement," as reported by Climate Action Canada.
Earlier during the conference, Thunberg joined 15 other youth climate crisis activists accusing Norway and Canada—in letters to the Prime Minister of each county—of violating children's rights around the globe. They claim that increasing fossil fuel production breaches the UN Convention on the Rights of the Child.
How do you respond to the fact that basically nothing is being done about this without feeling the slightest bit of anger? And how do you communicate this without sounding alarmist? I would really like to know. — Greta Thunberg
Related articles:
COP25 – It's Time For Canada To Get Real
Gasoline Breakup: Gasoline, Gasoline, the World's Aflame
This work is licensed under a Creative Commons Attribution-NonCommercial 4.0 International License.