The Climate Atlas of Canada is a new resource available to all who want to be part of the climate solution. The Atlas has usable and handy tools to help us better understand what climate change is and how it affects us. But more importantly, it will help you take meaningful #ClimateAction. (This post is sourced primarily from the Atlas website).
The Climate Atlas of Canada combines climate science, mapping and storytelling to bring the global issue of climate change closer to home for Canadians. It is designed to inspire local, regional and national action that will let us move from risk to resilience. Click here to read more about the about the atlas.
Earth is the warmest it has been for over 10,000 years. The threat we face is real and it's mostly happening because of us. Modern humans now transcend the boundaries and limits of planet Earth. We need to take meaningful climate action and to do so, we need to understand how climate change works.
The following three maps of Canada show hot weather, very hot days (+30C) and high carbon levels for different time periods — the recent past, the next three decades, and the decades after 2050.
Canada Atlas Climate Maps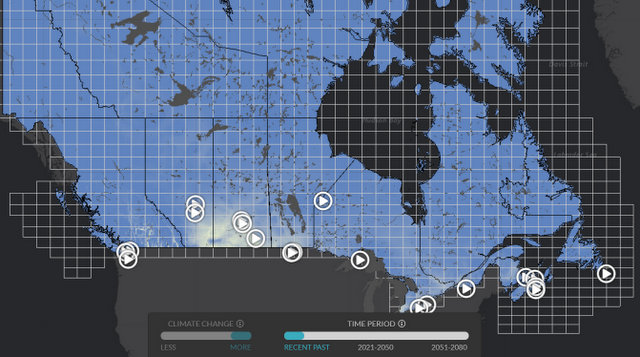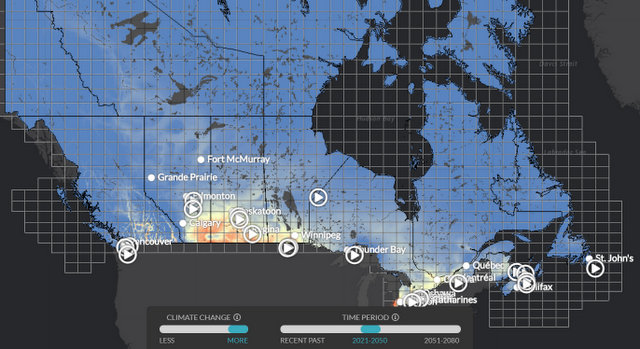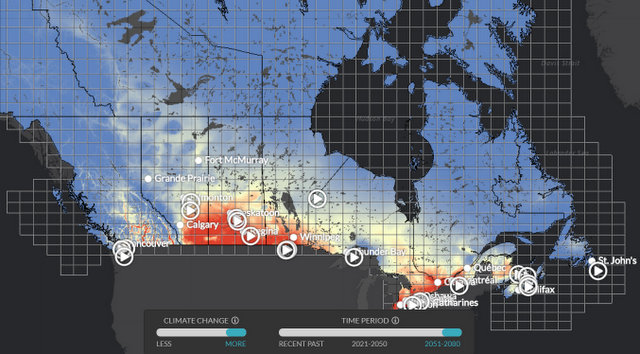 Unless Canada and the rest of the world get serious about tackling global warming, the scenario depicted by the three maps will occur. By burning increasing amounts of fossil fuels since the industrial revolution, we have changed the chemistry of our atmosphere. And continuing to do so is simply not an option.
Dave Sauchyn of the University of Regina says that Canadians will need to adapt to a much warmer climate. " I think the solution is fairly obvious if you give any thought to the consequences of a changing climate… ultimately it's going to take a behavioural change and quite a radical behavioral change. We have to divest ourselves of fossil fuels which is going to be a huge adjustment in the way we make a living especially in western Canada," says Sauchyn in a recent Prairie Climate Centre video.
Take Action Now
Climate change is a large-scale problem but it's also a direct result of our collective choices and actions. That means we can make a difference.
Our human species did not set out to damage our planet. We did not plan to bring mother nature to its knees. But using ignorance as an excuse is no longer acceptable.
Humans have known about the serious impacts on the planet caused by our high-carbon civilization for many decades. We know that burning fossil fuels and greenhouse gases are driving climate change.
We have the solutions, we have the technology, we have the know-how. What is missing is the political will to make our world better. What is missing may be you. Will you please take action? Click on the button and fight for the climate. Our future depends on it.
Related articles:
The 10 Hottest Years Yet
A First For Humanity