Wildfires are raging across the country, cities are choked by smoke and entire communities are being displaced. [1-3] The climate crisis is at our doorstep. In response to these catastrophic climate events, Prime Minister Trudeau said, "we simply have to be more aggressive in our thoughts". [4] Quite frankly, it's too late for thoughts. We need bold, ambitious action now.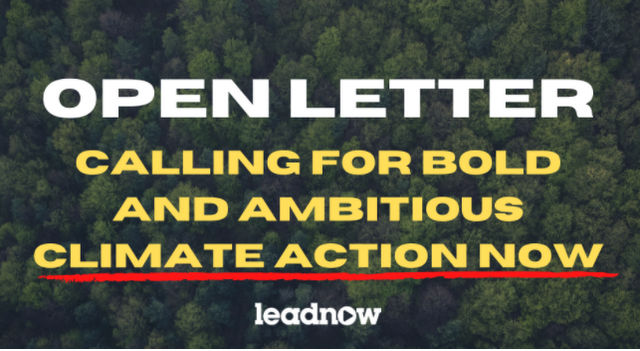 (This post is sourced entirely from the Leadnow Open Letter drive).
Climate Crisis: Open Letter to Prime Minister Trudeau
Climate scientists, experts and advocates have been calling for the same thing for decades now. [5, 6] We know what needs to be done: an immediate halt on all fossil fuel expansion and massive investment in a clean, green, economy that leaves no one behind.
The Liberals are gearing up for an election right now, so they'll be paying close attention to what the public thinks. If we can use this opportunity to influence their electoral calculus with a massive open letter, we could convince them to level up their climate ambition and put a Just Transition for all at the top of their agenda — or risk losing support at a critical moment.
We know governments can respond quickly to emergencies — they mobilized quickly to implement emergency measures to support people through the COVID-19 crisis. As people on the frontlines of extreme climate events have made clear: the climate crisis is also an emergency. It's time we start acting like it.
While it's crucial we do everything we can to support communities affected by extreme climate events like wildfires and flooding, we must also do everything we can to prevent these catastrophes from happening in the first place.
The country is on fire — we need bold climate action now. That means:
An immediate halt on all fossil fuel expansion projects;
Massive investments in a green economy, training oil and gas workers for sustainable and clean jobs;
Giving frontline and Indigenous communities actual decision-making power over the transition — not just 'consultations'. [7]
Canada cannot claim to be a climate leader while fossil fuel expansion continues. We are the only G7 country whose emissions have gone up every year since we signed the Paris agreement. It's unacceptable, and we're facing the consequences now.
We urge you to finally take bold action at the scale the climate emergency requires. Future generations, and our planet depend on it.
Add your name to the Leadnow open letter calling for an immediate halt on all fossil fuel expansion and massive investments in a clean, green, economy that leaves no one behind.
Sources:
[1] https://www.ctvnews.ca/climate-and-environment/smoky-skies-poor-air-quality-across-canada-as-nearly-900-wildfires-burn-1.5516020
[2] see [1]
[3] https://www.thestar.com/news/canada/2021/07/20/residents-from-four-first-nations-in-manitoba-sent-to-winnipeg-due-to-wildfires.html
[4] https://www.theglobeandmail.com/canada/article-the-future-of-wildfires-in-canada/
[5] https://www.theguardian.com/environment/2019/nov/05/climate-crisis-11000-scientists-warn-of-untold-suffering
[6] https://www.policyalternatives.ca/roadmap
[7] https://www.bluegreencanada.ca/blog/letter-federal-government-just-transition-and-climate-action
ICYMI:
Canada: A Model of Climate Denial in Action
Message to Justin Trudeau: Canada's on Fire – Act Like It
Accelerating Climate Impacts Setting Off Alarm Bells Worldwide
This work is licensed under a Creative Commons Attribution-NonCommercial 4.0 International License.