Since the Paris Agreement, Canada's Big Five banks—RBC, TD, BMO, CIBC, Scotia—have financed fossil fuels over half a trillion dollars (C$641 billion) globally and in Canada they provide the lion share (70%) of the money for Tar Sands expansion (C$93 billion).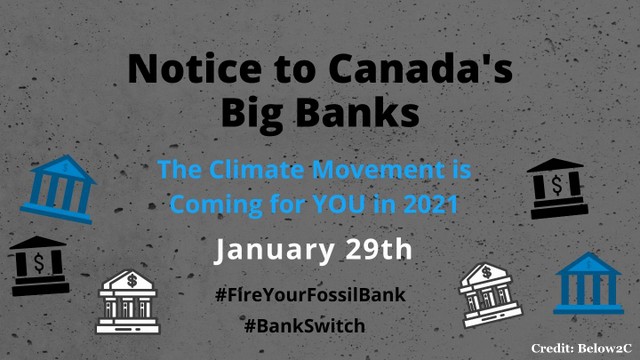 The 2020 Banking on Climate Change Report finds that, overall, bank financing continues to be aligned with climate breakdown. Thirty five (35) global banks have funneled an additional US$2.7 trillion in fossil fuels since the Paris Agreement (2016-2019) with financing on the rise each year.
Globally Canada produces 5% of the world's oil but holds 17.5% of the world's fossil financing since 2015. By partnering with the fossils, our big banks are carbon majors and funders of climate change.
Canada's Big 5 Banks
If you're banking with one of Canada's Big 5—RBC, TD, BMO, CIBC, Scotia—your money is going into fossil fuels. And, your bank is a #fossilbank.
RBC is the worst Canadian bank backing fossils fuels, financing over C$179 billion since Paris making it the 5th largest fossil fuel bank in the world. TD is Canada's second biggest with over C$132 billion, making it 8th worst in the world and making its recent "net zero by 2050" pledge meaningless. The other three banks also finance in the tens of billions. (Scotia is 10th worst, BMO 16th and CIBC 21st.)
"All the banks have made flashy pledges to put billions into "green" finance, but not only is this dwarfed by their fossil fuel financing, they are also fighting for a definition of "green" that includes fossil fuel companies," says Matt Price, coordinator of For Our Kids.
Climate Movement Coming for you
Fossil Banks No Thanks is a national action day (on January 29) which will launch the beginning of a campaign targeting the banking industry for its role in financing the climate crisis. "So we are coming together to raise the profile of their dirty secret: massive financing of fossil fuels that will push us well past the tipping point into climate chaos, violating Indigenous rights in the process. We will ratchet up the pressure and force them to change," writes Matt Price, also one of the January 29 action day organizers.
There's building interest around Canada in stopping financial institutions from bankrolling catastrophe, but we need to crystalize that interest into action that will draw attention and drive up the banks' reputational risk. We can start to do that if many actions happen on the same day – strength in numbers!

The goals of the January 29 day of action are:
To coalesce interested people and groups behind one event so that we get strength in numbers.

To drive earned media and social media around the day of action to get the attention of the banks and more of the public.

To inspire more people and groups to learn more about the banks and fossil fuels, and join us as we build a bigger movement.
We're also building towards the Spring AGMs of the banks when shareholders can hold them accountable. There is a resolution filed with RBC on fossil fuel financing, and we need to elevate this issue in the months before. Hosting a day of action at the end of January will also help us inspire more people to join more days of action before the AGMs.
Coming soon: Key Messages and Media Tools
ICYMI:
Canada's Big Banks Are Sacrificing Our Climate For Profits
Our Big Banks Are Financing The Climate Breakdown
This work is licensed under a Creative Commons Attribution-NonCommercial 4.0 International License.